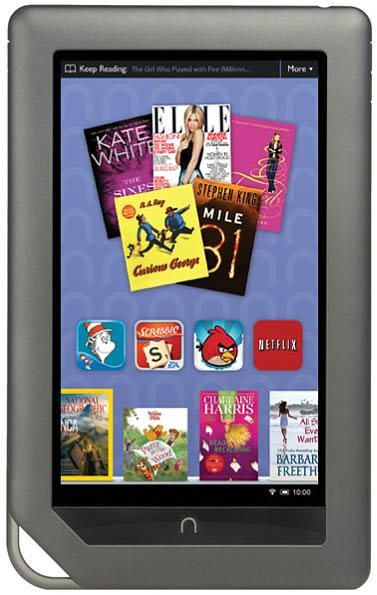 If you know me you know there is nothing I love more than my Nook Color. It's the perfect device for reading your favorite book or magazine and now for watching your favorite movie! There are also games and other apps you can download if you want other options besides reading. Today an update to version 1.4.1 was released which now gives access to Netflix! The NOOK Color Ver 1.4.1 update contains new features and enhancements, including:
Access to popular movies and TV shows streamed through Netflix
NOOK Comics™ including the largest collection of Marvel graphic novels - with vivid colors & rich images, the action nearly jumps off the page. Your issues always in perfect condition to enjoy again & again.
PagePerfect™ NOOK Books™ - a whole new category of NOOK Books carefully crafted to keep the precision and beauty of their stunning print versions. Zoom in on pictures, and fluidly scroll through pages of beautiful cookbooks, art books, and more.
Over 100 enhancements, including reading NOOK Books in portrait and landscape modes, direct look-up of words in the built-in dictionary, increased font size selection, and more.
Head over to the Barnes and Noble website and download the update if you have a Nook Color. I definitely recommend it!